Name:
Movable PCR Sampling Chamber Nucleic Acid Sampling Cabin
Brand:
XUECHENGLAB or OEM
Model:
XC-NSC1500/1800/2400
Lead Time:
10-35 days
Supply Ability:
100-300 sets per month
Price:
USD3650/4250/5700
Product Description
Safe Sampling Cabin for Nucleic Acid Testing (NAT)
The nucleic acid sampling cabin is a product designed for the sampling work of epidemic workers.
Features
- Safety:
1. Positive pressure system, +15Pa to ensure the safety of air flow, equipped with differential pressure gauge, so as to protect the safety of medical staff.
2. The air supply system can achieve 99.95% level ventilation and filtration;
3. After the sampling work is completed, UV light will be used for regular disinfection;
4. Professional chemical protective gloves, avoid direct contact.
- Comfort
Air temperature treatment in the cabin to ensure a constant temperature state, which improve the comfort of medical staff, thereby improving the detection efficiency.

The cabin is equipped with a sampling stool for easy rest;

The location of the sampling port is reasonable to ensure the comfort of the sampler and the person being sampled.

- Convenience:
1. The body is an overall all-steel structure made of high-strength and lightweight steel;
2. The bottom is designed with universal wheels and equipped with a brake system;
3. The bottom steel beam can satisfy forklift loading and convenient transportation;
4. The exterior is packed in wooden boxes and foam for safe transportation.
Technical Specifications
Standard Configuration Table

Frame structure

The overall body is all-steel structure, 1.5mm thick maintenance steel plate, and the bottom is equipped with universal wheels;

Door

use purification closed door, with automatic sealing function, 1 piece;

Floor

Use 2mm thick anti - bacterial type transparent PVC floor.

Window

Use 8mm thick tempered glass with fine grinding on all around.

AC System

The cooling capacity of the air conditioner is 1P, which meets the requirements of the cabin load, 1 piece

Ventilation system

Use well-known brand silent blower, with high efficiency filtration air outlet, filtration efficiency is 99.95%, 1 blower, 1 high efficiency filter;

Sampling port

Sampling gloves are acid and alkali resistant long-arm gloves, 700mm length, 1.2mm thickness, flange diameter 180mm, 1 piece

Disinfection system

UV disinfection equipment with timing start-stop device

Decoration

The cabin adopts clean decoration materials and warm color treatment.
More Products for Option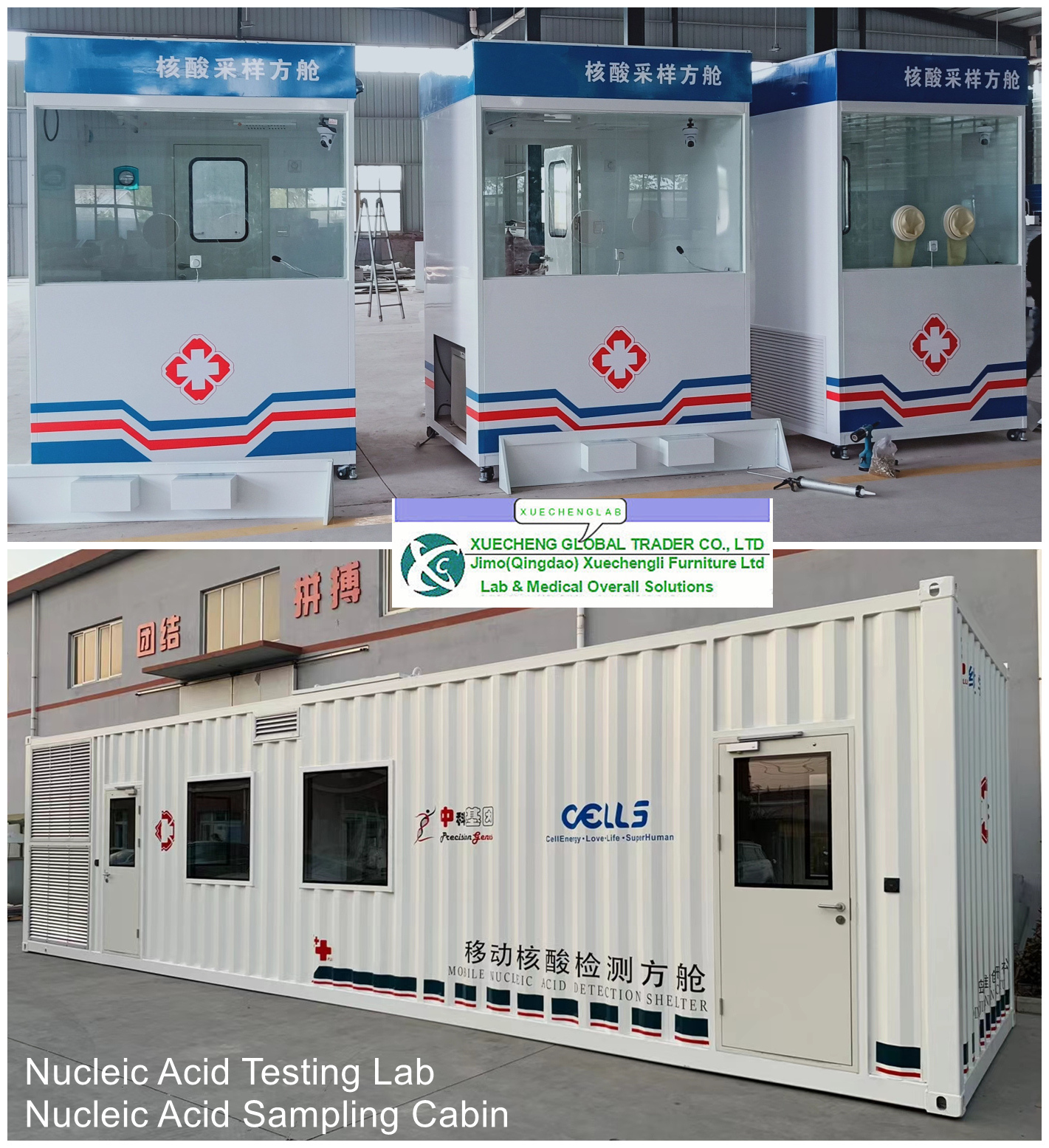 Company Profile
Xuecheng Global Trader Co., Ltd is one reliable professional industry and trade company, located in beautiful Olympic Sailing City- Qingdao, China.
After years' development, we have grown into one diversified company, engaged in lab furniture, water purification system for lab/ medical/ industrial use, lab equipment, medical equipment, etc
Medical Equipment we can provide as follows:
1) Bed series: operating bed, nursing bed(sickbed), examing bed, etc
2) Cabinet series: bedside cabinet(bedstand), storage cabinet, locker, etc
3) Trolley (Cart)series: crash cart, infusion trolley, nursing trolley, drug trolley, instrument trolley, anethesia trolley, medical record trolley, baby cart, patient transfer cart, patient docking cart, etc
4) Chair series: blood sampling chair, infusion chair, waiting chair, accompany chair, etc
5) Others: like PPE products for Corna Virus 2019
Related Products