Name:
Economic Series Lab Water Purification System
Certificate:
ISO, CE
MOQ:
5 sets
Packaging Details:
plywood case free of fumigation
Delivery Time:
5-10 work days
Payment Terms:
T/T (Western Union is available if sample order)
Supply Ability:
600 sets per month
Product Description
Economic Series Laboratory Water Purification System

Features
Working Principles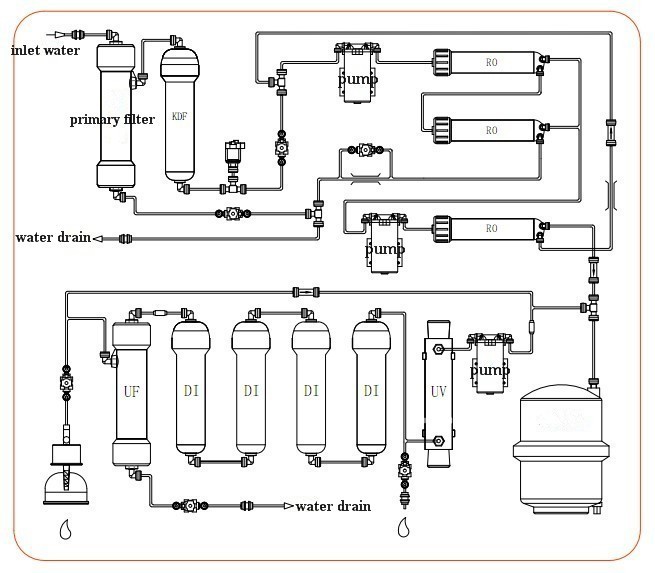 Technical Parameters
Product Name

Basic Application Type

Basic Analytical Type

Standard Reagent Type

Producing Water Quality

3

rd

lab water

2

nd

lab water

1

st

lab water

Product Model

XE(05-30)01/02YY

XE(05-30)01/02FX

XE(05-30)01/02UP

Working Conditions

Feed water: municipal tap water≤260ppm, Pressure/Temperature: 0.10Mpa-0.5Mpa, 5-40℃

(feed water TDS>260ppm better equipped with water softener)

Conductivity(

μS/cm

)

≤5

≤0.5

≤0.055

Resistivity(M

Ω

.cm)

≥0.2

≥2-10

≥15-18.2

TOC(ppb)

--

--

≤10

Endotoxin(EU/ml)

--

--

--

Particle(0.22μm)

<0.1ppb

<0.01ppb

Bacteria (CFU/ml)

--

--

≤1

Heavy Metal Ion

<0.1ppb

<0.01ppb

Organics removal rate

>99%, when MW>200 dal

Water Flow Rate(L/min)

1-2

Water Production(L/H)

5-30L

Soluble Silicon(Sio, mg/L)

--

<0.02

<0.01

Abs(254nm1cmoptical path)

--

<0.01

<0.001

Size(mm)

300*460*520 (LxWxH)

Weight(kg)

20

Application

feed water for ultrapure water system, for glassware cleaning, microbiological analysis, sample dilution and reagent preparation.

general chemistry and qualitative analysis, water analysis and general HPLC, spectroscopic measurement, buffer and media preparation.

water supply for the instruments like high pressure steam sterilizer, cleaning machine, automatic biochemical analyzer, immune analyzer,temperature and humidity chamber, Salt Spray test chamber, aging apparatus, humidifier, etc

Model Explanation:

X means brand: XUECHENG, E means economic series.

YY means basic application type, FX means basic analytical type, UP means standard reagent type.

(5-30) means production 5/10/15/20/25/30L/H.

01 means single stage RO treatment, 02 means double stage RO treatment.
Remarks:
1. The water production and recovery rate of RO system under condition of water temperature 25℃, raw water pressure 0.15Mpa.
2. The index is adjustable, pls obey to technician's professional guide to choose the proper recovery rate.
3. We can't guarantee the index under condition of very few special raw water, pls consult the technician for details.

More models for option


Related Products